Fighting air pollution is priority number one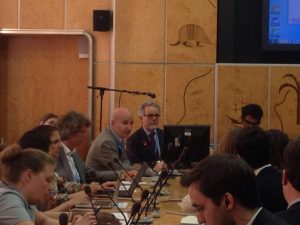 Bernard Jomier participait vendredi 27 mai 2016 à un side event de l'OMS, organisé en marge de la soixante-neuvième Assemblée mondiale de la santé, pour y présenter les actions de Paris contre la pollution de l'air et ses effets sanitaires. Voici le texte de son intervention, en anglais. Seul le prononcé fait foi.

Good evening,
And thank you very much for your invitation. It is always a pleasure to discuss matters of such importance with Dr Neira, Dr Dora and the Global Health Community.
I was a week ago visiting the unit of Professor Jocelyne Just in Paris Trousseau Hospital. Professor Just is one of our leading experts in France in respiratory illnesses. While we were talking, she mentioned the results of one of her most recent studies, according to which you could say that some Parisian kids, about 5 years old, had lungs beginning to look like the ones of 50 years old smokers. This, of course, is not acceptable.
If I had to remind you of some figures which apply to health and pollution in our case, Paris:
First, ninety to one hundred percent of Paris population is exposed to pollution every day, with concentrations exceeding the EU's prescribed limits on a regular basis.
Two to four millions Ile-de-France region residents, most of them Parisians, are subjected to poor air quality, to exposure to nitrogen oxides and to exposure to fine particles classified as carcinogenic by the WHO.
More than twelve percent of children in Paris suffer from asthma. Not only air pollution is accountable for serious worsening of pathologies, but it also explains the skyrocketing prevalence of respiratory and cardiovascular diseases in urban environment. Air pollution is responsible for about one thousand and four hundred deaths in Paris each year (and around forty-two thousands at the national level).
In Paris, sixty-six percent of nitrogen oxide emissions are due to road traffic, which also explains fifty-six percent of PM10 fine particles. Therefore, from our perspective, this is the first challenge to be met and explains our graduated, staggered, yet determined action towards a cleaner air, in particular through the gradual prohibition of the most polluting vehicles.
Our Road Traffic Pollution Action Plan was adopted as early as the beginning of 2015. Considering that the current Mayor Anne Hidalgo had been elected less than a year before and that the whole process had been conducted in a very comprehensive way and in order to get as much people as possible around the table, this first step was quite satisfactory.
It built upon important efforts under the previous Mayor, which had already led to unprecedented fall in pollution between 2001 and 2014 but had to be renewed, on a more radical scale, to fully take into account the phenomenon we are dealing with.
It built on both scientific and participatory approaches, with the work and expertise of AirParif (who is here tonight) and of various researchers, but also with a consultation of the Parisians themselves, the involvement of the entire Paris Executive, the involvement of the Paris Youth Council and a consultation of the professionals that would be among the most affected by the plan: urban logistics, artisans and shopkeepers, coach operators, chambers of commerce and industry…
The idea was to develop a roadmap that most people would understand and support, because its efficiency would also rely on this support and this appropriation. We also wanted this plan to be as cross-sectorial as possible. We were and still are deeply convinced that it was the only credible way in front of such a complex but vital issue, especially in a city of more than two millions citizens, itself at the center of a region of about ten millions citizens.
So several steps were designed from mid-2015 to 2020 as follows :
First, from the summer of 2015, heavy vehicles such as trucks older than 2001 were totally banned from Paris,
With a very few exceptions, all types of motorized vehicles older than 1997 will be banned from Paris on working days and from 8am to 8pm, from the first of July this year. At the same time new portions of the river Seine banks will be definitely closed to motorized vehicles.
Another deadline will be 2020: by then, other types of vehicles will have been forbidden too ; our ambition is also to completely forbid diesel vehicles in Paris, while they are extremely present in France today, considering that diesel alone is responsible for 40% of the emissions of PM10 particles. That will demand some extra work, especially since we do have to negotiate with the State and the government to widen some of our legal competencies, as a City, in order to do so.
All of this goes with other measures that I will not fully detail here, but among which you will find financials aids to let people (both as citizens and professionals) to quit using their older and more polluting vehicles.
Indeed it is not about forbidding, it is about enabling people to embrace that change.
You also will find a plan to transform Paris into the world bike capital with investments up to 150 millions euros and an important work to more and more develop, generally speaking, public transports and multimodality.
Last but not least, the Paris Environmental Health Plan that was adopted by the Paris Council at the end of last year is being implemented as we speak; a large portion of it is dealing with dilemmas such as urbanism, air pollution or indoor environment quality which are vital if we want to succeed in these matters.
Polls and surveys results this last couple of years show us that these measures are widely supported by Paris citizens. They know this is a  major public health issue and want us to take care of it. But we do expect some difficulties in the coming months and years. First with the implementation of the most drastic of these measures, then with the action of very well organized interest groups that do not share our enthusiasm for this matter.
The first example that comes in mind is the legal action introduced by an association of auto drivers against Paris City Hall. There is also the declaration of an important French politician who considered our will of making the City less pollution-friendly as selfish, in an attempt to oppose the inhabitants of Paris itself and those of its suburbs. I myself consider it would be not only selfish but irresponsible not to fight this battle, which concerns every one of us.
Actions and declarations like this, though, remind us of the need to go forward together on these issues. To strengthen our common capacities, like we are doing it right now. For Paris this means to act not only at our own level but in a network with local, national and global actors and actions articulated all together.
That is why Paris is a member of the WHO Health Cities French Network whose President, my colleague in Rennes City Charlotte Marchandise, will speak later on. I want to underline the importance of this network in order to enable French cities to talk together and find common solutions on these matters, in direct link with WHO.
That is also why Paris has decided to go European and to lead an action against some EU decisions. You all heard about the twenty European Mayors petition that was written by Anne Hidalgo and addressed to the European Commission on these matters. We are now willing to act before the European Union Court of Justice in order to make public health legally prevail.
Last but not least, Mayor Hidalgo and Paris are strongly committed at the international level, both with bilateral and multilateral contacts.
These last two years, Anne Hidalgo had several meetings with some of her colleagues that are the most committed against air pollution, like in Tokyo. But we want to deepen this international commitment and go much further, with the global health community and in particular of course with the WHO. The presentation of the three thousand cities network and of the series of studies conducted under the authority of Dr Dora got our full attention a few weeks ago and we want to build on that. As some of you may know, this will certainly be a subject of discussion on the twenty-seventh of June, during an international "Cities for Air" Conference that will be held in Iéna Palace, in Paris, by the City of Paris and the Greater Paris Metropolis, with the support of the WHO.
Since our time is limited, I will conclude on that. Air pollution is no stranger to Paris, its citizens, its elected officials. It is the inacceptable, yet avoidable, cause of many public health damages. It is one of the greatest challenge we have to meet, with direct links to Global warming which even greater. You can count on us to work restless and to fight this battle as long as necessary.
Thank you very much.